Over 1,500 backers pledged $309,000 on Kickstarter and Indiegogo to bring JOEY to life
Click To Check Out The Details:
SUPER ERGONOMIC & BEAUTIFUL
Conventional everyday backpacks are uncomfortable. The main reason for this is that they direct the weight away from your body. JOEY is different! 
A full contact, super ergonomic back suspension system directs the weight towards your hips and lays JOEY right against your back. A contoured hip pad absorbs the weight and reduces horizontal movements when walking or running. Load lifter straps and stowable hip and strenum straps provide maximum comfort. Multi-directional air flow tunnels provide pleasant ventilation and keep your back dry at all times.
NO MORE DANGLING STRAPS
One of the things that makes JOEY so special is that you can hide away all the straps when you're not using them:
The waist straps can also be stowed. It features a Fidlock® SNAP fastener, which combines the convenience of a magnet with the stability of a mechanical snap.
WELL-ORGANIZED
JOEY is made to carry your life and offers ample pockets for organizing the small things in the most intuitive locations. Things you frequently take out throughout the day like your charger or sunglasses can be packed conveniently in the big pocket in the top lid. 
ANTI-PICKPOCKET DESIGN
Don't worry about your valuables, they are safe! By teaming up with Fidlock®, a German fastener manufacturer, JOEY is the pick-pockets' new nightmare. Strong magnets makes the Fidlock® fastener easy to close but the secure snap functionality ensures a continuously high locking force. You have to feel it to believe it! Another cool thing? Your passport has its own hidden pocket facing towards your back, which can be accessed without taking off JOEY – perfect while traveling.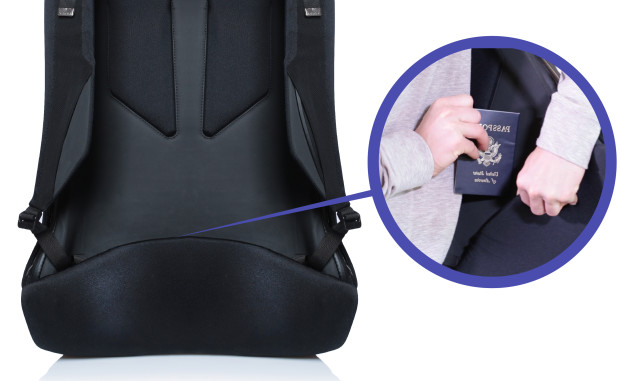 LOTS OF SPACE
We get it: you carry around a lot, from laptops to water bottles and you really stuff your backpack. What if you need additional space? Check this out!
There is lots of space. In fact, there is additional capacity of 15 liters so you are prepared for the unexpected. JOEY expands in a very unique way but always retains its balance. And its style.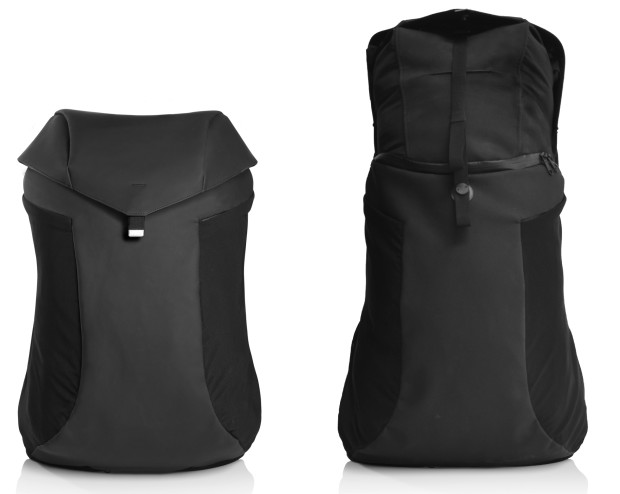 DISCOVER THE DETAILS
WATCH THE Q&A:
Customer Voices:
"So far this pack for the most part - I can barely feel on my back while wearing it. This is great, as that was the main reason why I invested in this... it is an investment in my health, and will allow me to continue to be more active and mobile. So thank you!" -Lisa via Kickstarter
"So I've had my Joey for a few weeks now, and I finally used it on a trip to Washington DC this past weekend. It held up well and also went through the metal detector and baggage scanner with no issues whatsoever. It also fit under the front seat of the plane, but was pretty snug... I love the magnetic closure, and the easy access to the side pockets... The weight feels great on the back, and I know that over time, it will just start to adjust to the contours of my back. I also got several comments about the bag from strangers who saw it, and admired the look of it. I'll post a review shortly!" -Randy via Kickstarter
"I just received my JOEY in Costa Rica from the US (no customs issues yay) and have spent the better part of an hour fiddling with it and figuring out all its pockets, zippers, capacity etc. I am a bag freak... the timing is perfect since I've got a short trip to Guatemala coming up and it's a good chance to put the JOEY through its paces - let's hope it stands the rather rough use I give to my bags. Thank you :)" -Alberto via Kickstarter
"I will confidently pledge a Leather JOEY II in its next iteration, because JOEY's design can be better appreciated in leather" -Philip via Kickstarter
"...I'm really pleased with the Fidlock fasteners and the secret passport compartment. It also feels really great when worn in terms of the weight balance. Can't wait to take it out on a daytrip or to the airport!" -Sulynn via Kickstarter
"Received mine in Singapore, thank you! JOEY is one sturdy backpack with loads of secret compartments and storage space. I really like the end product, it was as promised and true to the initial descriptions. Great job team!" -Gregory via Kickstarter
"I love this thing. It's kind of amazing how many pockets you have ready access to while maintaining a sleek look. Head and shoulders better than other expensive backpacks I've bought. My biggest concern was that the interior fabric wouldn't look nice. The pictures almost made it look like a cheap nylon. Happy to report that it looks and feels great in person. I can still muster a few minor quibbles, but I wouldn't trade this for any other backpack out there. Recommended." -Jed via Indiegogo
"Wow, thank you, this is an excellent product. I'm a tour-guide so I have considerable experience with backpacks, and I must say – well done! It's obvious you had to invest a lot of thought in order to create such a product. With it's high quality materials and perfect stitches, you can really feel the quality." -Roman via Indiegogo
"Shout out to Koala-Gear! Best. Backpack. Ever. I have lots of concern on weight because I dislocated my CT-disc and nowadays I couldn't carry things otherwise people would find light and normal; unfortunately my job requires me to carry notebook which a regular backpack would give me lots of pain. While JOEY won't define gravity – but the way it distributes the weight mostly to my hip would delay the pain I normally get within mins – been using it whole day traveling to PH, so far so good!" -Ken via Indiegogo
"Overall it looks and feels great, many things are well designed and that alone makes it a joy to use." -Carlos via Indiegogo